Payment methods and financing options
For your convenience, we offer the following payment methods to complete your purchase on Bose.com.au.
Credit/debit cards
The Bose online store accepts a variety of credit cards including VISA, MasterCard and American Express. Bose is unable to accept credit associated with a billing address outside of Australia. Troubleshooting credit card payment errors

If your card is new or recently reissued, make sure it has been activated.

Double check the card type, the account number and expiration date.

Remove dashes or spaces from the account number.

You do not have sufficient credit limit available, please check with your bank

If everything seems to be correct, call the card issuer's customer service number on the back of your card. Your credit card company may need to speak with you before they authorise your purchase.
PayPal®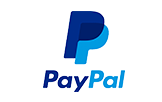 PayPal is a very safe and easy way to pay. You can use your credit card or bank account without exposing your account numbers. You can link your credit card or bank account to your PayPal account so you don't have to enter your card number or address verywhere you shop. Just log in to PayPal and quickly check out in a few clicks.
Security codes
The card security code is a unique three-digit number on the back (Visa/MasterCard) or four-digit number on the front (American Express) of your card.
When Bose charges your account
The payment amount is authorised and held by your financial institution
at the time you place your order. Your account is actually charged when
your order ships.